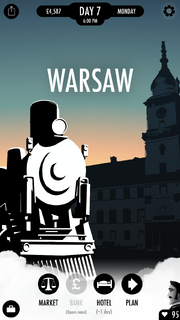 Warsaw
"...the windy streets of Warsaw..."
Continent
NA
Market
Yes
Bank
Yes
Hotel
Yes
Arrivals From
NA
Departures To
NA
Warsaw
is a location in
80 Days.
It is the capital city of Poland.
Now under the rule of the Russian Tsars, Warsaw has been industrialised in the last half a century and expanded with considerable prosperity. Although there are some signs of rebellion and unrest, by the time of Passepartout and Fogg's arrival it seems to have died down - the dissidents having apparently being either placated or disposed of.
Passepartout can wander in the city during the day to meet a man with a Khodunki, an exoskeleton made in Novorossiysk designed to facilitate manual labour.
Departures
Edit
The market in Warsaw is called the "Rynek Starego Miasta" (the "old town market"). Items that can be bought there include;
Ad blocker interference detected!
Wikia is a free-to-use site that makes money from advertising. We have a modified experience for viewers using ad blockers

Wikia is not accessible if you've made further modifications. Remove the custom ad blocker rule(s) and the page will load as expected.