"
Vienna was at once the City of Music, and the City of War.
"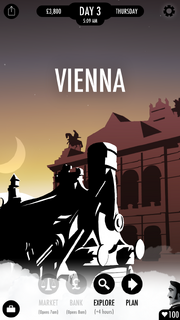 Vienna
is a location in
80 Days.
It is situated in western Europe, the capital of the Austro-Hungarian Empire.
The city is highly rigid and mechanised, patrolled by automaton guards. Moreover, foreigners are forbidden from making automata within the country, with customs officials routinely searching tourists for Artificing tools. This policy has made the Austro-Hungarian Empire a sworn enemy of the Artificers' Guild.
Much like its real world counterpart, the city also has a rich musical history, especially its world-famous "steam orchestra". However, only government officials are allowed to play a musical instrument within the city walls - the mechanical soldiers are programmed and controlled by musical code.
In Vienna Passepartout can meet Herr Danzer, an apprentice engineer, except after completing a journey around the world and after every two complete journeys, starting after the second one. Herr Danzer (if plied with wine) expresses guilt for his part in controlling the armies of the Austro-Hungarian Empire and Passepartout may steal the Zauberflöte from him and use it to create havoc amongst some mechanical troops by the Ringstraße later that evening.
Arrivals
Edit
Departures
Edit