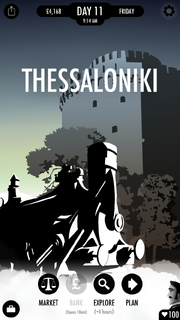 Thessaloniki is a location in 80 Days. It is a city in Greece the Ottoman Empire has secured for herself. The city is notable for its bombarded city walls. Passerpartout can help in moving the rubble.
One can travel there by an Ottoman Geyik Airship.
One can travel from Thessaloniki to Izmir (Smyrna) aboard the Aegean Ferry .
Or to Bucharest via a Phaeton.
Or to Athens, boarding the Greek Coastal Train.
 Departures
Edit
Ad blocker interference detected!
Wikia is a free-to-use site that makes money from advertising. We have a modified experience for viewers using ad blockers

Wikia is not accessible if you've made further modifications. Remove the custom ad blocker rule(s) and the page will load as expected.