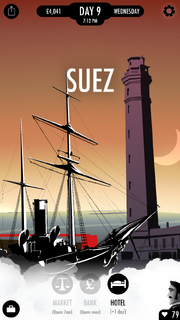 Suez is a city in Egypt on the banks of the Red Sea.
In the city, Passepartout can encounter two quarreling person where one challenges the other to a race to decide if a black stallion or the skeletal mechanical camel is the faster. Passparteut can wager on the winner, earning (or losing) 700 pounds. After the race, a route to Jeddah opens.
Also in Suez, Passepartout can visit a bar, and will be approached by an airship pilot. If Passepartout chooses to speak with him, he will unlock a route leading to Khartoum.
Arrivals
Edit
Cairo
Transport
Type
Price
Days
Cases
Hearts
Conditions
Bozek Car
car
£
2
9
Alexandria
Transport
Type
Price
Days
Cases
Hearts
Conditions
Departures
Edit