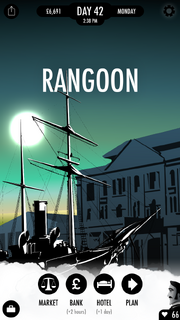 Rangoon
is a location in
80 Days.
It has been ravaged by the last Anglo-Burmese war, but King Pagan has been able to win the hearts and minds of the citizens of Rangoon, much to the chagrin of the officials in Whitehall and Buckingham Palace.
One of the enduring pieces of gossip about Rangoon that Passepartout hears in his travels is that of a dragon which prowls the street at night devouring people with "evil thoughts". Not long after arriving, Passepartout discovers the creature is in fact an intelligent automaton, which calls itself "Manussiha". It was originally a mechanical toy in the royal nursery who began to devour other toys and thus build itself into a larger-than-life machine.
Arrivals
West from Waltair aboard the Bengal Tiger.
South-west from Antananarivo aboard the Maminirina.
Departures
North to Yadanabon by hired chinthe.
North to Pangsau Pass by Garuda.
South-east to Batavia by flying chinthe (Ł190/-14HP/3 suitcases).
Ad blocker interference detected!
Wikia is a free-to-use site that makes money from advertising. We have a modified experience for viewers using ad blockers

Wikia is not accessible if you've made further modifications. Remove the custom ad blocker rule(s) and the page will load as expected.