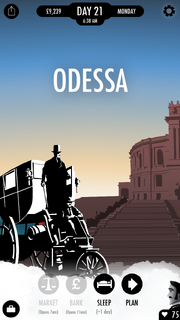 Odessa
"...the city could almost be Mediterranean, if not for the wind..."
Continent
Europe
Market
Yes
Bank
Yes
Hotel
Yes
Arrivals From
Minsk, Bucharest
Departures To
Istanbul, Moscow
Odessa is a location in 80 Days. Fogg and Passepartout find the city rather chilly, thanks to the weather and the Russian influence on the town that has been felt ever since the Tsar invaded.
Passepartout may approach a group of local drinkers, sharing some vodka at the top of a large staircase. He can ask them about the city and themselves, like why they are all so subdued with alcohol. They respond that this is them at peace, a rare thing in Odessa ever since their city has been overrun. When asked to specify what it has been overrun with they simply respond, "with Jews". At this Fogg makes known his desire to leave, but Passepartout can leave a parting remark about how it was the Tsar who invaded, not the Jews, if he wishes; it will not change their mind. If a different conversation route is taken Passepartout can buy a bottle of Vodka from the group.
Departures
Edit
Items that can be bought at the Odessa market include;
Timetable and Pricelist
Edit
Ad blocker interference detected!
Wikia is a free-to-use site that makes money from advertising. We have a modified experience for viewers using ad blockers

Wikia is not accessible if you've made further modifications. Remove the custom ad blocker rule(s) and the page will load as expected.