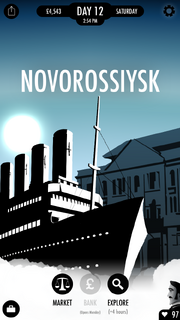 Novorossiysk
"Novorussisssk... Novorosayik... Novorossiysk is a beaoti... beeetif... very nice city..."'
Continent
NA
Market
Yes
Bank
Yes
Hotel
Yes
Arrivals From
NA
Departures To
NA
Novorossiysk is a location in 80 Days. It is a small town on the Black Sea in Russia.
Passepartout will imbibe a little too much of the region's chief product - white wine - and become drunk, which will cost at least one day.
Departures
Edit
Tehran
Transport
Type
Price
Days
Cases
Hearts
Conditions
Blue Flower
Airship
£
1
4
0
None
Items that can be bought at the market in Novorossiysk include;
Ad blocker interference detected!
Wikia is a free-to-use site that makes money from advertising. We have a modified experience for viewers using ad blockers

Wikia is not accessible if you've made further modifications. Remove the custom ad blocker rule(s) and the page will load as expected.