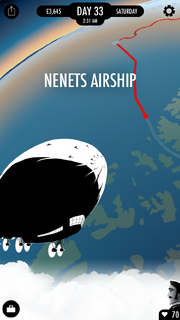 The Nenets Airship is an
airship
from the hidden city of
Qausuittuq
.
Nenets Airship
Type
Airship
Route
North Pole to Winnipeg or Gastown
Cost
Free
Hearts Depleted
21
Fogg and Passepartout sneak aboard to escape from the North Pole, and Captain Ain Vanuito agrees to take them with her to either
Gastown
or
Winnipeg
(depending on whether Passepartout chose to take the left or right ship). Captain Vanuito disagrees with the city council's isolationist stance and is glad to assist the escape.
Ad blocker interference detected!
Wikia is a free-to-use site that makes money from advertising. We have a modified experience for viewers using ad blockers

Wikia is not accessible if you've made further modifications. Remove the custom ad blocker rule(s) and the page will load as expected.