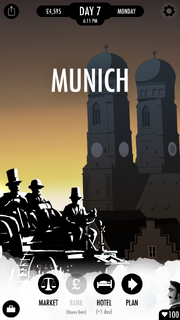 Munich
"...the sky was shrouded in steam and oil fumes..."
Continent
NA
Market
Yes
Bank
Yes
Hotel
Yes
Arrivals From
NA
Departures To
NA
Munich is a location in 80 Days. It is situated in Germany.
Munich is a city of industry, constantly turned over by steam-powered tractors and excavators. Given the recent Franco-Prussian War, Passepartout finds his French heritage to be a disadvantage in Munich.
Departures
Edit
The following items can be bought in the Munich market;
Ad blocker interference detected!
Wikia is a free-to-use site that makes money from advertising. We have a modified experience for viewers using ad blockers

Wikia is not accessible if you've made further modifications. Remove the custom ad blocker rule(s) and the page will load as expected.