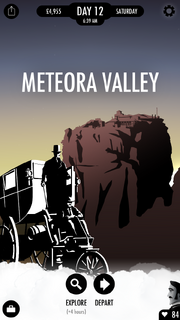 Meteora Valley
Continent
Europe
Market
No
Bank
No
Hotel
Yes
Arrivals From
Dubrovnik
Departures To
Thessaloniki, Athens
Meteora Valley
 is a location in 
80 Days
. It is the site of one of the largest Greek Orthodox monasteries in Greece. Despite it being a valley, the monasteries are built upon great stone pillars that stretch high into the sky; indeed, it is said that pilgrims come from all over because it is a site that is so close to heaven.
In one of monasteries Phileas Fogg and Passepartout can meet the Levitating Atheists of Varlaam, named after the rock on which their holy site rests. The monks of this order use the chimney-stacks and canvas parachutes, powered by the plume of the boiler below the monastery, to rise swiftly into the air and descend gracefully to the ground, all without divine protection. One monk will offer Passepartout a chance, if he wishes, to try this experience out for himself; to see the world as it truly is and hopefully make an atheist out of him yet. The feel of soaring through the air leaves Passepartout with a sense of wonder and breathlessness, and even if he does not see any possible ways onward while in the air it will still be a remarkable experience for him, though Fogg will see it as a waste.
Arrivals
Edit
Departures
Edit
Ad blocker interference detected!
Wikia is a free-to-use site that makes money from advertising. We have a modified experience for viewers using ad blockers

Wikia is not accessible if you've made further modifications. Remove the custom ad blocker rule(s) and the page will load as expected.