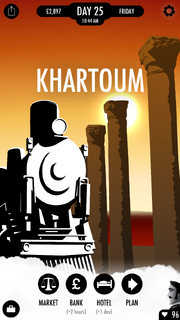 Khartoum
is a location in
80 Days.
It is situated in eastern Africa. It has been a holding of the Ottoman Empire for over fifty years, and have been harsh masters of their Egyptian subjects.
Arrivals
North from Wadi Halfa aboard the Red Line.
Departures
East to Aden aboard the Gameela.
South-east to Stone Town by Ottoman Geyik airship.
South-west to Ujiji aboard the Shaba-meli Jalani.
Ad blocker interference detected!
Wikia is a free-to-use site that makes money from advertising. We have a modified experience for viewers using ad blockers

Wikia is not accessible if you've made further modifications. Remove the custom ad blocker rule(s) and the page will load as expected.