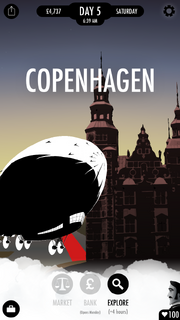 Copenhagen
is a location in
80 Days.
It is situated in Scandinavia and is the capital city of Denmark.
Tourist attractions include the Amalienborg Palace and the local markets. One can engage the youth of the city for a penny-farthing race, which Passepartout loses, even though M. Fogg placed some money on his victory.
Arrivals
North from Kristiania aboard the Northern Lights.
South-West from Amsterdam by Bozek car.
Departures
Edit
Ad blocker interference detected!
Wikia is a free-to-use site that makes money from advertising. We have a modified experience for viewers using ad blockers

Wikia is not accessible if you've made further modifications. Remove the custom ad blocker rule(s) and the page will load as expected.