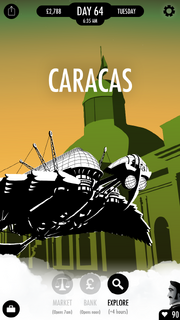 Caracas
Continent
NA
Market
Yes
Bank
Yes
Hotel
Yes
Arrivals From
NA
Departures To
NA
Caracas
is a location in
80 Days
. It is situated on the northern coast of South American near the Caribbean Sea and is the capital of Venezuela.
After finding rooms in the old Spanish district, Passepartout explores the nearby wilderness. On the way back he spies a pair of Haitian sisters giggling at him. After engaging them in conversation, he learns that one of the sisters (Minette) is to be married to a man she does not love, and other sister (Izméry) is acting as her chaperone until the wedding.
The next day Passepartout meets two men, one an architect and the other an engineer discussing a building that is due to open the following day.
Departures
Edit
The market of Caracas is called the Plaza San Jacinto. Items that can be bought there include;
Ad blocker interference detected!
Wikia is a free-to-use site that makes money from advertising. We have a modified experience for viewers using ad blockers

Wikia is not accessible if you've made further modifications. Remove the custom ad blocker rule(s) and the page will load as expected.