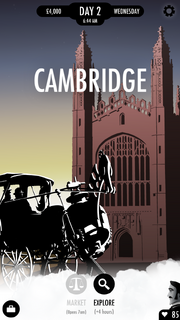 Cambridge
"...I glanced this way and that down resounding stone corridors and up curling wooden staircases..."
Continent
NA
Market
Yes
Bank
No
Hotel
Yes
Arrivals From
NA
Departures To
NA
Cambridge
is a location in
80 Days.
It is situated in England, north-east of London.
Fogg and Passepartout arrive at Trinity College on a phaeton sent by the former professors of Fogg. Cambridge is his alma mater, and Professor Infrey welcomes him before he sets off on his journey around the globe. Research at the college centres on assembling and operating a gyrodyne. Fogg can take it on her maiden voyage.
Departures
Edit
Items that can be bought at the Cambridge market include;
Ad blocker interference detected!
Wikia is a free-to-use site that makes money from advertising. We have a modified experience for viewers using ad blockers

Wikia is not accessible if you've made further modifications. Remove the custom ad blocker rule(s) and the page will load as expected.