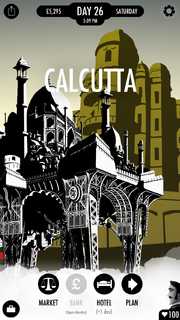 Calcutta
is a location in
80 Days
. It is situated on the eastern coast of India near the boarder with Bangladesh.
It is an industrial city built on trade, specifically of opium, textiles and indigo.
Arrival
West from Agra aboard the Moving City itself.
Instantaneously from Rub' al-Khali through al-Talib's Invention.
West from Allahabad aboard the Mechanical Elephant.
Departures
East to Hong Kong (via Chittagong and Singapore) aboard the SS Thunder.
Timetable & Costs
Destination
Method
Arrival
I
II
III
IV
V
VI
VII
VIII
Bags
Health

Ship

Same Day

8.100d

9am

21

9am

?

?

?
?
?
?

3

-10

Singapore

Ship

4 Days

290

9am

740

9am

3

-34

Hong Kong

Ship

9 Days

670

9am

1700

9am

3

-45