"
Here was proof, if needed, that we were in the far corner of the earth, and yet it was a peaceful and prosperous city.
"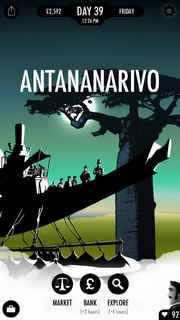 Antananarivo
is a location in
80 Days.
It is the capital of Madagascar. It is the native city of the Artificer Queen,
Ranavalona II
, and an otherwise placid and burgeoning town, thanks to the automata who work in the fields. It is a self-proclaimed 'city of the future'.
Passepartout and Fogg discuss the activities of the Queen, with Fogg claiming to have read a volume concerning her.
Arrivals
Edit
Departures
Edit
| To | Transport | Type | Duration | Price | Cases | Hearts |
| --- | --- | --- | --- | --- | --- | --- |
| Rangoon | Maminirina | Balloon | 10 | 1100 | 10 | 34 |
| Colombo | Artificer's Coppership | Airship | | 990 | 10 | 11 |