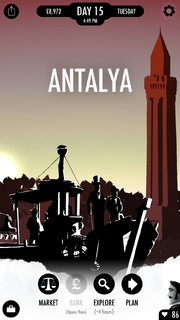 Antalya
is a location in
80 Days.
Antalya is a bustling port. Whilst exploring, Passepartout may meet a group of Turkish sailors transporting Venetian glass and, by posing as their employer, take some for himself. If you meet Sophos in Athens or during your ride aboard the Sophos Company Ferry, you might recognise Fontaine and interrogate him about his trading practices. Sophos strongly suggests that there might be some illegal activities involved, and offers two thousands pounds for any reliable information in Cairo.
Airships also fly from Antalya but they are all privately owned and thus require knowing the owners to get aboard.
Arrivals
North from Istanbul by Trevithick steam-carriage.
North-west from Izmir by fishing trawler.
Departures
South-east/South-west to Cairo via Alexandria and Beirut aboard the Nefertiti.
Timetable and Pricelist
Edit
Ad blocker interference detected!
Wikia is a free-to-use site that makes money from advertising. We have a modified experience for viewers using ad blockers

Wikia is not accessible if you've made further modifications. Remove the custom ad blocker rule(s) and the page will load as expected.