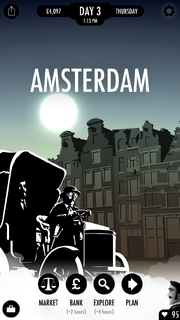 Amsterdam
is a location in
80 Days.
Situated in western Europe, it is the capital city of the Netherlands.
Amsterdam is a cheery city with friendly people and beautiful canals. In its hey-day Amsterdam was one of the most powerful cities in Europe.
Departures
Edit
Munich
Transport
Type
Price
Days
Cases
Hearts
Conditions
River Barge
Ship/Boat
£
<1
4
0
None
The following items can be bought in the Amsterdam market;
Ad blocker interference detected!
Wikia is a free-to-use site that makes money from advertising. We have a modified experience for viewers using ad blockers

Wikia is not accessible if you've made further modifications. Remove the custom ad blocker rule(s) and the page will load as expected.