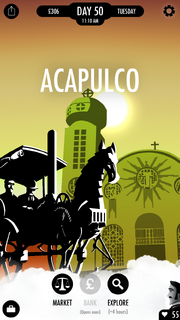 Acapulco
is a location in
80 Days
. It is situated in Central America, on the western coast of Mexico.
Acapulco, as with Mexico in general, has a turbulent history. Originally a Spanish colony, the Mexican people eventually rose up in revolution and won their independent. As a result, the Spanish are treated with hostility in Acapulco and Spanish ship are often turned away at the port.
By the time Passepartout and Phileas Fogg arrive, Acapulco is being laid seige not by the Spanish but rather by the French. Ships fighting in the bay whilst airship attack the city from above. Upon arrival, you can talk to a French soldier and reveal that French attacked the city because of debt problems. The only accommodation is in one of the local garrisons.
Arrivals
Edit
NOTE : the only way to enter the city if you travel aboard the Reina Christina is to stitch a French flag to the vessel. Otherwise it will detour to
Panama City
.
Departure
Edit
North to San Francisco aboard the Bonaventura.
East to Houston/New Orleans by Caleche.
South to Panama City by automatic Caleche.
Timetable and Pricelist
Edit
French siege of Acapulco is loosely based from the real Battle of Acapulco, part of French Intervention in Mexico, where the battle was fought for the same reason. However, while the real battle ensued in 1863, the game follows alternate history where they fought the battle in 1872 instead.
Ad blocker interference detected!
Wikia is a free-to-use site that makes money from advertising. We have a modified experience for viewers using ad blockers

Wikia is not accessible if you've made further modifications. Remove the custom ad blocker rule(s) and the page will load as expected.